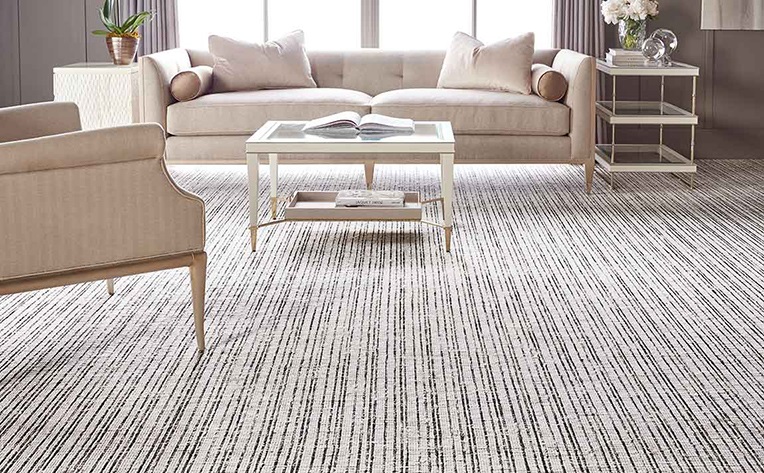 CARPET STYLES
February 26, 2022
Carpet is the best flooring option if you want to feel the warmth, soft and plush feel under feet.
Do you need a new carpet, but don't know which one best suits you? A carpet's style has a lot to do with carpet pile or the density and thickness of the carpet's fibers which makes the carpet soft and versatile and how the carpet might feel to the touch. Some carpet styles are rougher and thicker, while others feel lighter and softer on the feet. There are many types of carpet styles, patterns & colors available you can choose from according to your style and matching décor.
Carpet styles are better understood as texture which is how the fibers are attached to the backing. There are many types of carpet textures, the most common are.
Cut Pile:
Cut pile carpet is made up of yarns that are cut at the ends. It is ideal for bedrooms, living rooms, and family rooms. The primary difference is the number of twists in the yarns influencing durability. Textured cut pile carpets are currently trending with a fuller, textured appearance. The five basic styles of cut pile carpet are as follows:
Saxony piles dense, soft, twisted, smooth finished carpet. Downside holds onto the vacuum and can be crushed in high-traffic areas.
Plush pile/velvet-cut pile. The fibers of this type of carpet are densely packed, luxurious, and are hard to be pressed down by wear and tear. Ideal for formal areas.
Textured cut pile has fibers of uneven lengths, twisted into spiral strands. Also Known as "trackless" carpet because it doesn't show marks of any kind of use. Suitable for high-traffic areas.
Frieze cut is made of tightly twisted yarn. Withstands foot traffic, doesn't show vacuum marks. Also called casual texture, short shag, cable carpet.
The cable cut pile is made up of long, thick fibers. Best suited for areas of low traffic like formal dining rooms, bedrooms as well.
Loop pile carpet:
The Loop carpet has yarn fibers that are looped and uncut. The pile height varies from low, tightly constructed, high-level pile. Loop carpet has strength and soil hiding capabilities making it ideal for heavy traffic areas. The different types of loop pile carpet are as follows:
Level loop/ Berber carpet. This carpet leaves the entire loop intact, also known as an "uncut pile." The level loop pile is designed to withstand high traffic.
Patterned loop/ multi-level loop, is made of loops of varying lengths. Giving the carpet a patterned texture.
Cut and loop carpet/ sculpted carpet are a mix of level and patterned loop piles. Some fibers are looped and others cut. Provides protection against footprint and vacuum marks.
Sisal carpet is a loop style of varying colors and heights with loops arranged in rows.
Cut-Loop Carpet:
This carpet is made up of high-cut tufts and lower loops in a variety of sculptured patterns. Cut-loop carpets do offer good performance but are less durable than other loop carpets.