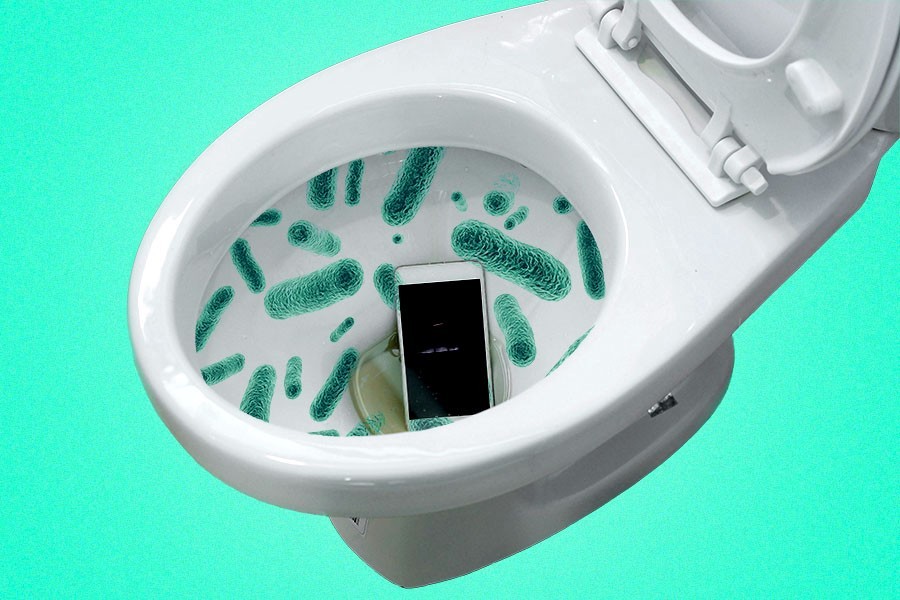 How to Disinfect Mobile after Dropping in Toilet
February 27, 2022
Mobile Phones – they have become one of the most important parts of our everyday lives. We do not leave our phones anywhere – not even in washrooms. We take them everywhere and start fidgeting on them. We look at our social media profiles or do some office work. Not only elders but kids are also affected by this. They also take phones everywhere with them. But just imagine, you go to the washroom and you unknowingly drop your phone in the toilet. What will you do? How to disinfect mobile? Will it turn on again? All these questions start lurking in your mind! It is important that instead of panicking, you take some steps and strive to turn on your phone again.
There might be some phones that drop dead after getting into the toilet. They are not able to charge and after some time they are not of use anymore. To avoid such a situation, you need to act fast before anything happens. Quick actions will lead to fruitful results in such a case. Don't worry about what will happen. Just do your best and you will see that your phone will breathe again!
Now, after dropping your phone, you need to take some simple steps to ensure that your phone is working again. Below are some of the ways to save your phone after it has been dropped in the toilet. Have a look!
How to Disinfect Mobile
Mobile is a very sensitive gadget. Thus, it can break or lead to a short circuit if switched on immediately. Don't panic and read the following ways to recover your phone.
Calm Yourself
Well, this advice is underrated but very essential. We know that your phone is very important for you. But after you have dropped it, you must not panic. Panicking will make you take stupid steps which you will regret layer. Thus, calm yourself down and don't take sudden steps. This will ruin everything.
Do not Turn On the Phone
The phone becomes wet after you have dropped it in the toilet. Thus, it is not recommended to switch on the phone to see if it still works or not. Since your phone is wet, it can lead to a short circuit. This will do more harm rather than good. Therefore, you need to keep the phone turned off after it has been dropped off.
Towel Cleaning
Grab the wet phone and wipe it with a towel. Dry the phone as much as you can with a dry towel. The towel stuff will effectively absorb the water and will help you to dry the phone fast and efficiently.
Say No To Blow Dryer
Never ever use a blow dryer to dry your phone. Even if it is a cool setting, heat on the electric surface can damage the phone. Rather than drying the water, the blow dryer can damage the phone, thereby pushing the wind into the device. The wind can ruin the battery of the phone, thereby making it incapable of charging.
Turn Off the Phone
If your phone is still on, it is advised to switch off the phone completely. Hold the power button for a few seconds and then slide to power off. Do not switch on the phone under any circumstances. If the phone turns on by itself, then there's not much for you to do. Let the phone do the needful and make itself alive again!
Battery
Taking out the battery or not is completely your call. Taking out the battery can further push the water into the batter. All the phones are tricky to handle. It depends upon the company, of which you are using the phone. For instance, the iPhone's battery is difficult to take out. Thus, it is advised that you must not take out the battery if the phone has been dropped. If you do take the battery out, it will become difficult to put it back again.
SIM Tray & Card
Open the SIM Tray and take out the SIM card. Taking out the SIM card and leaving your phone open for some time can actually help you benefit from it. You can clean all the grime that has been stuck on the phone's body. Remove all the unwanted dirt with a damp cloth. Further, apply some cleanser on a cotton pad and clean the surface body of the phone.
White Rice to the Rescue!
You can keep the phone in a white rice container for at least 3 days. If it doesn't work, then you can keep it for 5-10 days. This is a sure-shot method through which your phone will be revived. Do not turn on the phone before seven days. After a week has passed, you can remove the grains and clear all the rice powders that may have accumulated on them.
Charging & Backup
Charge your phone after a week or so. If nothing happens, charge it a little longer. You can also go for an overnight charge if your phone isn't turning on immediately. Back up your phone's memory and retrieve all the things back.
Testing
After your phone has been disinfected completely, the final step is to test it. Put the SIM card in and try a testing call. If it works, then it's good! If it doesn't, then you need to go to a technician to revive it.
By following these steps, you can disinfect your phone and retrieve all the data that was within. So, these were the steps regarding how to disinfect mobile. Disinfecting phones is a tedious and panicking task. But don't worry! By following these steps, you can definitely disinfect your phone. Try these hacks and tell us if they were effective or not!
FAQs
How do you clean your wet phone?
You can follow the steps mentioned above to dry your phone. Using white rice and a towel to dry your phone is a good option. Try them out now!
What should I do if my phone falls in the toilet?
You first need to stop panicking. Panicking can harm your mental and physical health. Then, you need to follow the steps mentioned above to disinfect your phone. Doing this will help in disinfecting your phone efficiently.
Is it essential to disinfect the phone?
Of course, it's necessary! The toilet is not a clean spot and if you have accidentally dropped your phone, then you need to disinfect it because there are thousands of microbes that lurk around. They can damage your phone and your physical health as well.