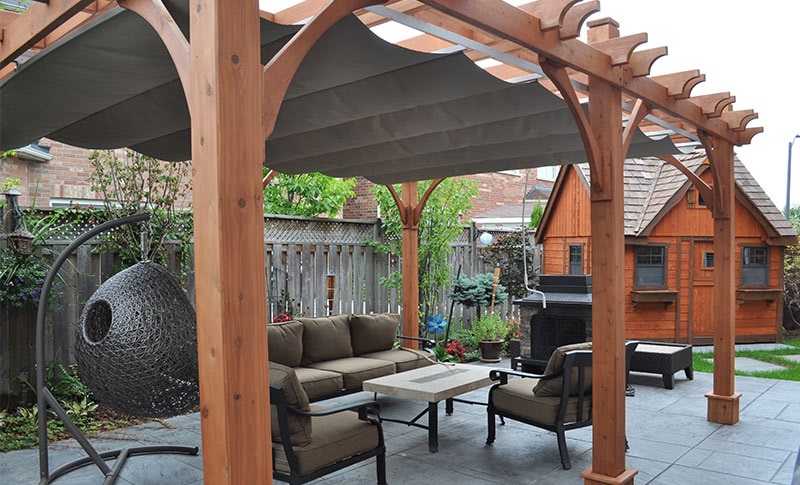 Are Pergolas Must Be Added In The Garden?
December 28, 2021
Are you looking for a place to store your extra potted plants? Do you want an enhancement that can add quality to your outdoor living experience? Do you want to spend some privacy time with your partner? Well, a single solution for you is to add a pergola to achieve your all desires! Although it is a simple structure, it can beautifully turn your backyard into a one-of-a-kind statement piece that you love the most. Being remarkably versatile, pergolas are built with vertical beams and roof beams without solid walls/roofs. And if the pergola is covered with plants, it will adorn your garden! These structures not only change your entire outdoor space but offer a lot of benefits as well. Here's why you need to add a pergola to your yard;
Top Benefits Why One Should Own A Pergola
Provides Privacy
Own a pergola if you want privacy for enjoying your outdoor space. Although this simple structure is open on all sides, you can create privacy by adding screens, latticework, or drapes to one of its sides.
Beautifies Your Outdoor Space:
Do you want to add immense value to your outdoor space? Pergola could be an ideal choice. It not only beautifies your home but makes it a poignant asset if you are looking forward to selling your house.
Provides Shade And Protection
Summers without shade-no way! Having pergolas in your backyard can give you a shaded area to spend your time without worrying about sunburn. Pergolas having an optional canopy can also be a good choice as they can open and close as per your requirements.
Versatility
Pergola is made with different materials like vinyl, cedar, and even metal. So, you have multiple choices to choose from depending upon your budget, taste, or home style.
Creates Additional Space For Your Plants
With having a pergola in your home, you can add additional space for your plant. Make your garden gorgeous by hanging plants from the boards. It is perfect for plants that create natural ceilings such as honeysuckle, clematis, grapevines, wisteria, and ivy.
Creates A Better Entertainment Place
 Are you a party lover? Having a pergola in your backyard can entertain you well to enjoy your outdoor parties by providing a versatile and attractive entertainment area. Many superlative ideas are available for you to make your space great where you can enjoy yourself with your loved ones.
Hence pergola is one of the gorgeous structures that turn your backyard into Heaven. Now it's up to you how to transform your space into a peaceful environment where you can enjoy yourself with your family and friends. This is the place where you can get rid of your tiredness. Moreover, you can make your pergola more attractive by adding your favorite elements such as curtains, lights, hanging pot, and much more. So, adding a pergola to your deck or patio might be a perfect enhancement as it offers energy and tranquility!