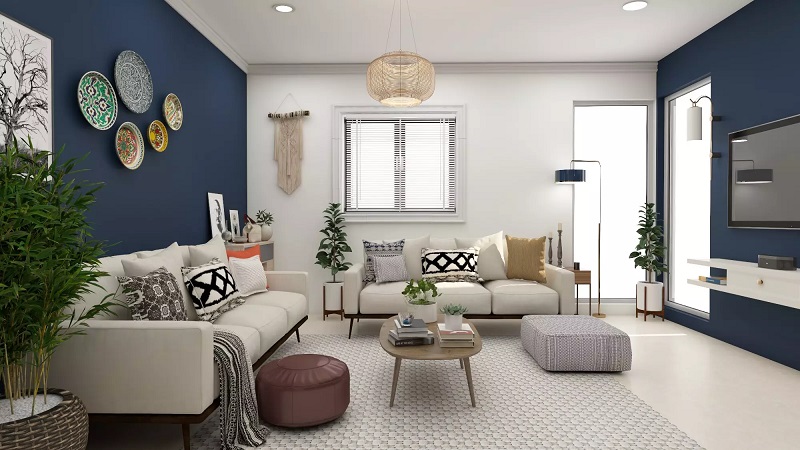 7 Social Media Trends Influencing Home Design
July 2, 2023
In the same way fashion trends can be very quickly spurred on by a single TikTok video or Instagram image, interior designs can be founded entirely on the back of a single post. Residents and developers alike pay attention to budding hashtags and popular influencer accounts so as to catch developing trends early on, allowing them to create stylish and valuable homes that are ahead of the curve.
For those wanting to spruce their home's design or to help make a property even more attractive to potential buyers, we're sharing seven of the biggest trends currently influencing home design.
Maximalism
It could be said that social media has single-handedly usurped the Japandi trend of minimalism inside the UK's homes. For years, understated living space shave been styled around concepts of hygge and sparsity. However, now, with thanks to the confidence and style of influencers, homes are embracing colours and textures for truly maximalist living spaces.
Dried Flowers
Another way in which social media has replaced a popular trend is with houseplants. Whereas living spaces were once luscious with vibrant green houseplants sprouting from multiple pots, now it is dried flower arrangements taking the spotlight.
Boho Decor
Matching the natural and rustic aesthetic of dried flowers is the styling of boho decor. This rural aesthetic, one that is similar in spirit to cottagecore is influencing residents toward materials like wicker and cork, all with an emphasis on delicate comfort and serenity.
Summer Houses
As the hashtag #naturalaesthetic reaches the millions, summer houses are becoming more popular, with residents creating living spaces in their gardens, so as to have sheltered areas that can be merged and styled with their garden's aesthetic. This is also done in the pursuit of wellness, with residents want to soak up the healing aspects of their garden's natural landscape.
Black Accents
Black is not often seen as a useful colour for the home's decor since it can potentially overpower or compromise the light of a room. However, influencers and interior designers have championed embracing black accets in the home, balancing the colour's impact with other, sometimes surprisingly, tones to create bespoke and impressive living spaces.
Love Seats
Perhaps in the pursuit of space saving or possibly emphasising indulgence and romantic lifestyles, love seats have become one of the most popular features online. These items of furniture, often plush and indulgent in design, can snugly fit two on, making them a compact sofa or a decadent chair. Either way, they have many benefits.
Cyberpunk
While not entirely fitting among the other most popular interior design hashtags, the striking aesthetic of cyberpunk is important to mention. This technological and lurid style is gaining popularity and some residents are lighting their rooms with intense colours and embracing a number of gadgets to complement it too. Expect to see a greater number of dark and industrial spaces illuminated by stylish neon and colourful, Asian embellishments over the coming years.